Whoever you are, wherever you're from, you are welcome here.
We are very passionate about our teens. This is a very difficult world we live in and our deepest hearts' desire is to train up and equip Restored teenagers to stand strong and be witnesses in this world. Mighty young men and women are needed in our schools and neighborhoods in a desperate way. There are stats out there today that suggest that up to 80% of teens will walk away from their "faith" when they hit college. That is in no way acceptable. The only explanation for this is that they are not really being led to the living God and are not truly giving themselves to Him because He has overwhelmed their lives and has become their purpose in life. Living off mom and dad's faith doesn't last.

A DIFFERENT WAY
Our Youth Ministry isn't just another cool activity to add to a busy schedule. It's a place for students to encounter God personally, build deep friendships, and live out Acts 2:42-47 community. When students are devoted to Jesus, they can make a big impact in their homes, schools, and other areas of influence. We are committed to equip students to follow Jesus, thrive in this season of their lives, and have a lasting impact on the world around them. Our desire is for our time together to be encouraging, purposeful, impactful, and a ton of fun!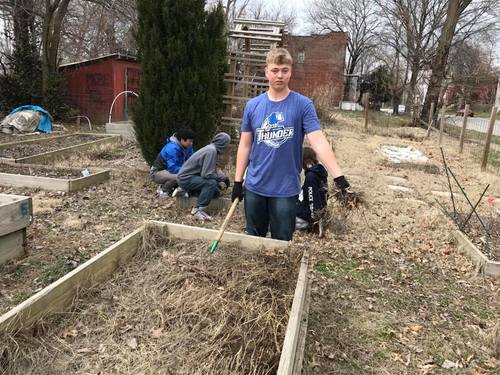 Restored - Sundays at 6 p.m.
The Gathering is a worship service for the Restored Youth that includes group games, worship, a message, and small group time. All middle and high school students are welcome.
Wednesday Evenings - 6:00 p.m.
On week nights, students are involved in House Churches by helping lead and teach kids during groups and also going through lessons and studies with other House Church members.
College Hill Creamery
Every Other Tuesday - 6 p.m.
This is a great evening out with our Youth Pastor, Jimmy Hutson. Come and get a cup of java and study the Bible with your friends.
Restored - 9 a.m. | 11 a.m.
Our students are an integral part of our Sunday morning services. Come worship with us and hear relevant messages that will apply to all ages.
Get Connected. Go Deeper.
At Restored Youth, we feel that discipleship is the key to building strong, Christ-led teens. Our ministry goal is to pair a younger teen with an older high-school student in a discipleship relationship or team up a student with a discipling adult from the body of Restored. This is life-on-life ministry where they are meeting together weekly and teaching our students to walk with Jesus as their Savior.
We would love to hear from you. Fill out the form below to get started.